Biography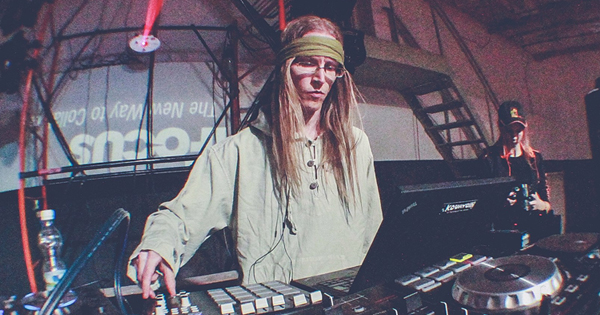 Teknojta is a hardcore techno artist currently located in Tampere, Finland. Stylistically his music is shamancore and psychedelic speedcore. The music takes influences from folk and world music as well as shamanic rhythms. The mission of the project is to restore our ancestors' knowledge of the positive and healing properties of high tempo rhythmic music using both new and old instruments.
Starting to make music in the beginning of the millenium, he became first known in local and some global underground hardcore techno circles as Zutsuu (=headache in Japanese), a project which was active from 2004 till 2012. In 2005, he founded Kovaydin.NET, a Finnish underground *core music netlabel, party crew and online community. His track Noiseman was featured on the pioneering j-core label Sharpnelsound in 2006 and gave him some international exposure early on. After this the project focused more on industrial hardcore, speedcore and social conscious themes. More Zutsuu tracks were featured on CD compilations by Six Feet Underground Records and Total Discommunication, as well as online compilations and an EP on Kovaydin.NET and an album on Splatterkore Reck-ords. Dj gigs started in 2006 and next year followed with his first live set as Zutsuu. In the next years he played his music in different parts of Finland as well as abroad in Sweden, Lithuania, The Netherlands, Russia and Germany.
A slow switch to the alias Teknoaidi (noaidi = shaman/witch in Northern Sámi) happened around 2010-2013 when he started experimenting with atmospheric and psychedelic hardcore and speedcore and expressing spiritual ideas. Living both close to nature and close to all the subcultural action that a city life offers made an impact on his creative output. He had a realization that indigenous and shamanic rhythms had a lot in common with hardcore techno and, despite the somewhat aggressive reputation of hardcore, there was also something very healing and enlightening to shaking to these kinds of powerful high tempo beats. Shamancore concept was born to build this idea further. In 2012 an EP, Hiiden Virren Vinguttajat on Chase Records and an album, The Source Field Manifestations on Splatterkore Reck-ords were released. The second Teknoaidi album Starseed Integration and Repatriation came out on K-NeT Label in 2015 and the latest EP Positive Phuture Timeline came out on Kovaydin.NET in 2017. Individual tracks were also featured on Speedcore Worldwide and Kovaydin.NET compilations, most notably the collaboration track Luonnon Nostatus, which came out in 2019. He continued to play gigs as Teknoaidi for audiences in Finland as well as in Germany, UK and Russia.
In 2022, a decision was made to change the artist alias to Teknojta (nojta is a Proto-Finnish-Sámi reconstruction of the word shaman/witch). A new EP under the new alias titled Luontotietoisuus (=nature consciousness in Finnish) is set to be released in 2023 and it's a collaboration with various vocalists. The previously released track Luonnon Nostatus set a new direction of adding vocals and acoustic recordings of ritual folk nature in the mix. Ydinväki, a sublabel of Kovaydin.NET, was formed in 2020 to further develop this concept, of combining live ritual folk music and hardcore techno, with other likeminded artists. Teknojta is now set out to bring the sounds to nature near you!
In addition to Teknojta sets, he plays dj sets as Avaruusveli (=space brother in Finnish), which explore and combine styles such as hardcore techno, speedcore, flashcore, mental tribe, psycore, breakcore and ritual folk music. Hiiden Virren Vinguttajat, a collaboration project with Stak Etop, is a ritualistic electroacoustic/analog/digital live improvisation approach to shamancore. Other collaborations over the years have included tracks with artists such as Abandoned Soul, ázwb, Razor Edge, Skelic, Shatterling, Tomegatherion, Iconobreaker, Samu Kuusisto and Mutant Core Resistance.
Besides these activities he has been writing about the less known underground electronic music online on Bass Distortion Zine and The HARD DATA, as well as documenting parties on YouTube over the years. The latest project, Electric Byway, reports about the electronic underground in the form of video essays, minidocumentaries and interviews.
Teknojta is available for bookings worldwide!