30.03.2018
Teknoaidi gigs are momentarily on hold as I'm planning to create a new kind of live set for the project, however, I'm still open for Teknoaidi bookings in areas worldwide where I haven't played yet! Always interested in visiting new places and meeting new people!
My next gig so far is gonna be at MyskiMayhem | 5thDimension | OnTheWayToTheMilkyWay at a secret location in Southern Finland on the last weekend of May, where I will play a mental tribe/psycore dj set as Avaruusveli.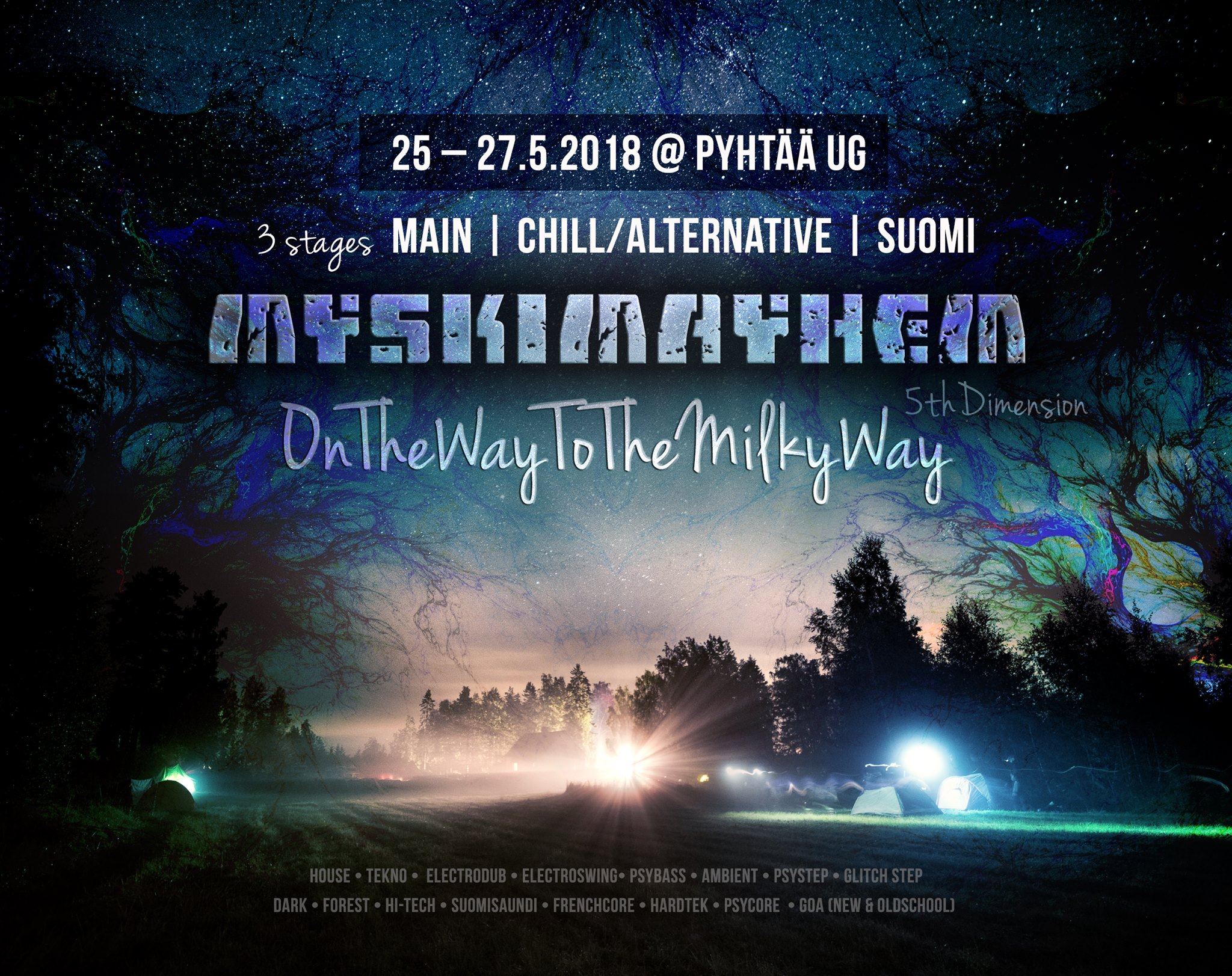 This summer I'm focusing on the Hiiden Virren Vinguttajat live set. We're organizing a forest *core open air KoreMetsä 2018 in Tampere with Manse-Tek on the last weekend of July and I will play as DJ Avaruusveli and Hiiden Virren Vinguttajat live there.

Earlier in July there is also a HVV booking, which will be announced soon. If you haven't been invited to these underground parties yet, drop me an e-mail or a message in Facebook to get more info!
Here is a recording of my dj set from few weeks ago:
Avaruusveli @ Suomicore Online v2.0
Styles: Hardcore Techno, Breakcore, Speedcore, Industrial Hardcore, Tracker
A dj set I played at the Suomicore Online v2.0 webradio event. The set contains more obscure, B-side, tracker as well as unreleased Finnish *core tracks from 1968 (yes, the prototypes really go way back!) to 2018.
Tracklist:
01. Erkki Kurenniemi – Antropoidien Tanssi [Love Records]
02. Dune – Hormo2 [-]
03. Dune – white plastic- [-]
04. ázwb – Hagged [-]
05. ázwb – True Name Of God (H8) [-]
06. Hell Factory – Kaira [Kovaydin.NET]
07. EOF – laavakivi [Pakkaslumi]
08. Jamppa – Kolmastoista Polkka [Kovaydin.NET]
09. Toys'r'us – The First Nuclearpsychotronic – B2 [El Turco Loco]
10. Orgasmin Orjat – Murmeli-Final ReMix [-]
11. Leppälä Bros. – Alamäkirallaa [Tenkale]
12. DJ Bantza – minotaur [-]
13. H8!Machine – Hospitalized [Viral Conspiracy Records]
14. ázwb VS Zutsuu – Insane Inhuman Willpower (AM/PM Programme Cutoff) [Kovaydin.NET]
15. KVNT – Exitus [Kovaydin.NET]
16. Valovoima – Speedcore 2006-2010 – 07 [Pakkaslumi]
17. Tres – Rytinää Viidakossa [-]
18. Toys'r'us – The First Nuclearpsychotronic – B1 [El Turco Loco]
19. Naks – Fucking vibrations [-]
20. PiirakkaMunalla – Arsch Deine Cickel [-]
21. Orgasmin Orjat – Elämää Ilman Yhteiskuntaa [-]
22. Orgasmin Orjat – Medium Wave Madness [-]
23. Naks – Nenoveh [-]
24. dA JoRMaS – Hans Christian [-]
Recordings of the entire radio show can be streamed here:
https://www.youtube.com/watch?v=UBhrv4FE49I&list=PLeynV6EByQjLIIJ9zGrUxJpG6yg8e_84D